Shipping & Delivery
We use our trusted UPS Services to deliver your products. We found that UPS offers the best rates for our customers and service we can trust.
Privacy & Security
We do not share your information with anyone. We only collect information relevant to your navigation of our site in order to improve the overall quality of the website.
Returns & Replacements
We generally do not offer returns or replacements unless the product you received has been damaged in shipping or we made a printing mistake. Read more about our Return Policy.
Ordering
Once your order is placed you will receive a notification email. If you have chosen to receive a proof of your artwork we will send it to you via email within 24 hours. Your order will be shipped in less than 48 hours from the time you approve your prints.
Payment, Pricing & Promotions
We accept all major Credit Cards as well as Paypal for payment. Our pricing is final, no further discounts are possible. Promotions are often listed in the home page as well as sent via email to subscribers.
Viewing Orders
You may view your orders in your account section. If something is incorrect please notify us immedietely.
Updating Account Information
Your account information should be accurate. Please review and update accordingly in order to avoid unnecessary mistakes.
Luma Delivery and Returns
We hope you love shopping with Luma. Here are our delivery and returns policies to help make sure we meet your expectations. Contact Us.
Shipping and Delivery
Shipping and Delivery is the charge for internet order processing, item selection, packaging, transport and handling. We don't guarantee delivery times, but we do our best to provide accurate estimates.
Deliveries occur only on weekdays. Shipping and Delivery charges are subject to change and are determined when you order. Estimated delivery time assumes orders are placed before 12:00 noon (PST). Orders you place with Luma late on Friday or on Saturday will not be processed until Monday. Charges may be added to orders with Priority, Overnight and International shipping if we try unsuccessfully to deliver your order more than once.
Delivery addresses in Alaska, Hawaii, Puerto Rico, and Guam should add an additional $5.00 charge for standard Shipping & Delivery. Orders arrive in 7 to 9 business days when ordered before 12:00 noon (PST).
Shipping and Delivery
Merchandise total *
STANDARD
5—7 day shipping **
PRIORITY
2—3 day shipping **
OVERNIGHT
Next business day **
Up to $200
$16
$26
$33
$200.01—500.00
$21
$31
$38
$500.01—1000.00
$29
$39
$46
Over $1000.00
$34
$44
$51
*before tax and additional charges
**after processing if ordered by 12:00 noon PST
Returns and Replacements
We want you to be completely happy with your Luma order. If for any reason you are not satisfied, we will gladly accept your timely return of unworn, unwashed, or defective merchandise. Used merchandise cannot be returned unless defective. Returned merchandise should include the vendor packaging and tags and be in the same condition as when it was received. A pickup and/or restock fee may apply. Merchandise must be returned within 30 days of receipt of merchandise.
Returning Gifts
When returning a gift, a Luma Gift Card will be issued to the gift recipient for the amount of the returned merchandise. The card can be used for purchases from any Luma store, and online. In compliance with Federal law, for gifts valued at more than $2,000.00, the recipient will receive a check rather than an Luma Gift Card.
Returning Merchandise by Mail
On the back of the packing slip enclosed with your Luma order, please note the reason(s) for return and whether you wish to exchange the item(s) or receive a credit/refund (depending on the original form of payment).
Enclose the return section of the packing slip with your item(s). Please use one of the return labels provided on the front of your packing slip to ensure proper return address and credit information. Restricted items must be returned using ground transportation.
Please allow 10 to 14 days for Luma to process your return.
Hems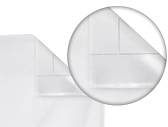 Hems consist of one inch of the
Custom Banner
material folded over to the backside of the banner and heated together to form a clean and strong one-inch hem. We recommend having hems on all banners to increase the strength and durability of the banner. . We offer free hems on all our banners. Hemmed edges are typically used to reinforce the sides of vinyl banners. This helps to maintain the banner's shape and prevent stretching.
Pole Pockets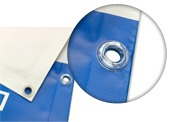 Provide a convenient method for hanging or attaching vinyl signs at regular points. This distributes the weight and helps to keep the vinyl signs from sagging. Hems Hemmed edges are typically used to reinforce the sides of vinyl banners, helping maintain the banner's shape and prevent stretching. This is particularly helpful when grommets are used on vinyl signs.
Pole Pockets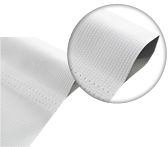 Pole Pockets allow for rigid poles or dowels to be inserted along the edges of the banner. This allows for a more even distribution of the banner's weight to prevent sagging. Opposing pole pockets can also be used to make the banners more rigid.
Wind Slits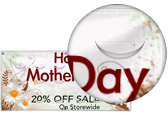 If you choose this option, we will cut small half-circles into your banner to reduce wind resistance. This feature is perfect for outdoor banners, as it helps to prevent twisting and flapping in the wind.